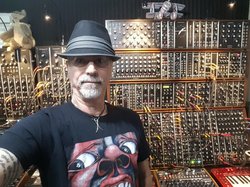 Welcome to Lazlotronic!

I'm Allan (you can call me "Al"), but most of my music related friends and clients know me as Lazlo.

Lazlo is actually my "Playa Name" which is something one is given in the Burning Man community of which I am a part. I'm a First Amendment and Intellectual Property attorney by profession, and the name was given to me back in 2001 by a (then) bandmate who decided that I reminded him of the lawyer from the Hunter S. Thompson books. The name stuck....

I've loved music all my life. My earliest recollection is from (probably) 1963, sitting on the back porch of my parents house in North Hollywood, California, madly strumming a tennis racket, pretending to be a Beatle. In second grade, we had the choice to learn an instrument for our school orchestra - a choice sadly lacking in most schools today. I initially chose the drums... to which my parents response was something along the lines of "no way, too much noise - pick something else."

My second choice, guitar, wasn't an option - but to my young mind, a violin looked like a guitar - so I picked the violin which made my parents very happy... at least initially. You see, the sound of a child learning to play the violin is something akin to crossing the sounds of finger nails on a chalk-board with an alley cat looking for a date. I sawed away on the violin for six years, developing my sense of pitch and learning to read music. I was first chair in my elementary school orchestra... My little sister, much to my chagrin, was second chair.

By the age of 12, I had decided that the violin was not a sufficiently sexy instrument for me to use to impress the newly discovered fairer sex. By then, I'd seen many a musical performance on the Ed Sullivan show, and heard my first Hendrix record. I knew that the electric guitar was what I needed. So I began to beg my parents for one. The familiar "too much noise" response followed, but I was unrelenting. And in an attempt to satiate my desires without being driven them from their home, or their sanity, they hit on an idea. They bought me an electric guitar - but nothing to amplify it with...

It was a dark green Aria copy of a Gibson ES335 semihollowbody. It came with a cardboard case, a strap, and a cord... but no amplifier. I could learn to play it, and hear what i was doing, but with my bedroom door closed, my parent's sanity would be preserved... or so they thought.

A few months later, one of our neighbors tossed an old portable record player in the trash. I saw it sitting in the can, on top of their other trash, just minutes before the garbage collectors showed up. Something told me that I could use this discarded piece of musical equipment... So - just in time - I rescued it from an ignominious trip to the dump.

I have no idea what make or model it was. All I can remember is it was brown with a heavy silver tonearm, a black leather handle, a 45 spindle adapter, and a black cloth insulated plug. I snuck it into my bedroom to evaluate my find. Keep in mind I knew exactly nothing about electronics. But I plugged it in and turned it on. No smoke... but the platter didn't move. With many years of hindsight, I assume it had either a burned out motor, or a broken belt. I assume that's how it found its way into the trash. But at the time, I was only interested in whether it made noise. I rubbed my finger on the needle and it did! Somehow, without any electronics training whatsoever, my 12 year old brain knew I could make this thing amplify my guitar. If I could just figure out how....

There were two wires coming off the cartridge. I touched my finger across the wires and - again - it made sound. Hmmmm.... My guitar cord had a plug on each end, and as I inspected it, I realized I could unscrew the plug's cover. Inside there were two wires. I had hit paydirt. I used a pair of my mom's scissors to cut the wires going to the cartridge and stripped off some of the insulation. I wrapped one around the tip of the guitar plug and the other around the sleeve, and used Scotch tape to hold them in place. I plugged the other end into my guitar, and turned it on. It sounded great! It was distorted, and really (really) loud! I had only played one or two chords when my mom showed up ... cigarette in hand ... and she was not happy. "Give me that thing... Just wait until your father gets home!"

Several hours later, my father walked into my bedroom. I expected him to toss the amp back in the trash, and possibly even take away my guitar. But to my amazement, my father just asked me just two questions. First, he asked "where did you get the record player?" "Out of the neighbors trashcan" I said. He sat down, and lit a cigarette. He was quiet for a moment, and I was terrified. Then he asked - and I remember this like it was yesterday - "how in the hell did you figure out you could play your guitar through it?!"

He wasn't mad at all... he was proud. "Let me hear it" he instructed. I fired it up and played George Harrison's My Sweet Lord. He listened for a few minutes... "Sounds pretty good" he said. "Make you a deal; you can play the guitar in the house, but if you want to use the amp, you have to play in the garage." "Deal!" I said...

It gets pretty hot in the summertime in the San Fernando Valley. But I spent most of my afternoons sweating and making noise. I was in heaven. I practiced my guitar playing for hours a day. After a while, my parents signed me up for guitar lessons which, in retrospect, was good for all of us. The following December, my parents gave me a Fender Champ. I used a big chunk of my Bar Mitzvah money to but a Fender Stratocaster, a Cry Baby and a Fuzz Face.

I played in a garage band with some friends. (I was proven right that playing the electric guitar was a good way to meet girls!) I tried to learn every Hendrix lick I could, and I began to obsess over the sounds I could get out of the guitar. Then, as I was just getting comfortable with the guitar, my musical world turned upside down.

I remember it like it was yesterday. I was riding my bike home from Madison Junior High. I had a battery operated radio attached to my handlebars so I could listen to 93KHJ on my way to and from school. At the time, I was still a huge Beatles fan, but I'd gotten into Hendrix, and Clapton, and I'd started to learn more about music. KHJ was Los Angeles' number one pop radio station at the time and they played the "hits" so if I was on my bike, KHJ was on the radio.

As I rode my bike up Coldwater Canyon, a song came on that I hadn't heard before. It was a fairly ordinary arrangement: acoustic guitars, bass, drums and a vocal. I rather liked the sound of the singer's voice. "He had white horses, and ladies by the score..." I listened as I continued my ride home. A nice little song. A catchy chorus: "Ohhh, what a lucky man he was, Ohhh, what a lucky man he was..." I remember thinking the guitar solo was kind of lame. I stopped at Sherman Way heading north waiting for the stoplight to turn. And then it happened. In the last chorus, there was that sound that cut through the track. And then, Keith Emerson's solo (which I now know was just noodling and which I'm told he actually despised) came through the speaker. That was it...

​ I've been heading down the ever-deepening rabbit hole of synthesizers ever since.

In the 70s, while playing guitar in several local Hollywood bands, I fed my synth habit by working at some of LA's biggest music stores. First at Ace, then WPM, then West LA Music and finally at Guitar Center. During that time, I took some classes at the LA Center for Electronic Music and Alex Cima introduced me to Dan Wyman, at Sound Arts. I hung around Sound Arts and in 1978, when they were looking to sell off some "older" Moog modules, I bought them in a Sound Arts built Model IIP. Some of these modules were originally owned by Paul Beaver and others bear labels saying "property of Robert A. Moog." Georgio Moroder recorded the Donna Summer hit "I Feel Love" at Sound Arts using these modules in 1977.

My first "Guitar Synthesizer" system (below) was comprised of the aforementioned Moog IIP, a 360 Systems Slavedriver which used a hexaphonic pickup mounted on the guitar (in my case, a BC Rich Mockingbird) from which it derived pitch and volume and generated control voltage and gates, and a modularized Oberheim FVS1 with a pair of mini-sequencers installed. I used this rig to do sessions and to play live in an ELP cover band before heading out on the road in 1979 as Jean-Luc Ponty's stage manager.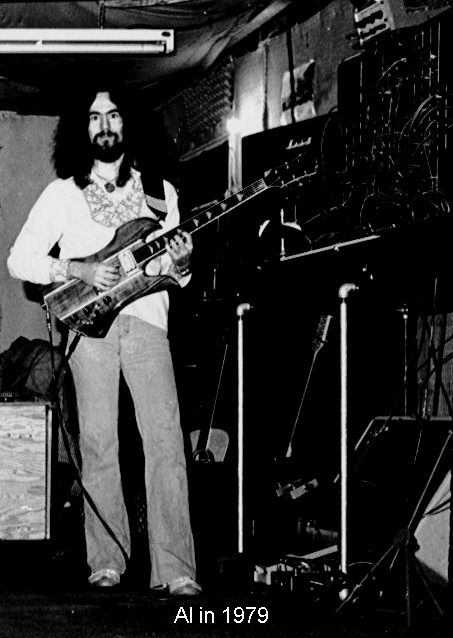 I left the music industry in 1981. Disco was not for me! Eventually, I found my way to the law. But I still clung to my prog-rock, fusion jazz, and other cutting edge music.

In 2000, I made my first trip to the Black Rock Desert. Burning Man was a life changer for me in many ways, but perhaps the most profound effect of that first year was my becoming aware of modern electronic dance music. Prodigy, the Chemical Bros, the Crystal Method... I was floored. As soon as I got home, I pulled the old Moog out of the garage, and started making music again.

Since then, I've become fascinated with the EDM culture, the process by which it is created, and the effect it has on people. I've worked (silently) with Producers and DJs (and not-so-silently with other lawyers) to find my way back to the music "biz."